How Trump came into power as the 45th President of the USA. No small feat by any means but this short post will provide some insightful information.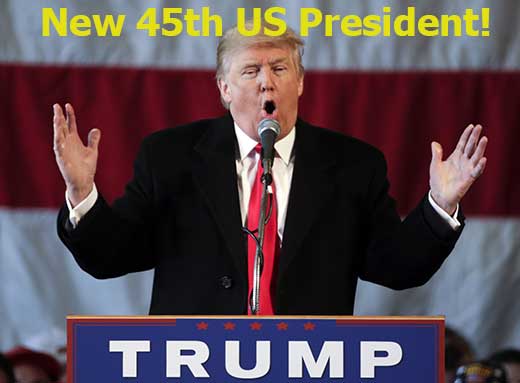 The 45th President of the USA.
In case you forgot how Trump came into power, you might want to refresh your memory with the following article.
I had followed the run-up to the election since no person in US could ignore the deluge of insults and insinuations that were thrown by each party (Clinton & Trump) on a daily basis. My first opinion of Trump was mixed and quite surprised that such a person of this brazen personality and character could ever take center stage let alone make a president. I began to wonder a life of Trump as president and based on his talks how he was anti this and ant that, I became terrified of a third world war under his leadership. As much as two months ago, there was no way that 'normal' people would actually vote for this kind of a person into office, people just won't let that happen,…so I thought.
As the election unfolded on Nov 8th, I began to have an uncomfortable feeling that all of media and every whimsical thought and prediction to the run up to the election was going to be squashed and vanquished tonight. I reflected back to the 2004 election where G W Bush stood for a second term despite all odds against him but was voted again for a second term as president. There was a very famous poster in UK following his victory where the headlines read 'How can 50 million people be so dumb?'.
Moving forward to the 2008 election where Hillary Clinton was up against Obama, there was one lingering thought in my mind that wasn't talked about in the media at that time. I immediately had a sense that Clinton was not so trustworthy whereas Obama seemed open and transparent and my choice would go with Obama.
Many people are now trying to reel themselves back to reality from the outcome of this election but the fact remains that nobody can predict the 'mindsets' of the people of America. I was even surprised to hear that 29% of Latinos voted for Trump despite his rhetoric for building a wall and deporting illegal immigrants. Maybe they have forgotten where they had come from and decided that this was their home to stay and protect. I actually thought that they could tip the balance for Hillary but I wouldn't be surprised to learn that the new generation of Latino voters who are second descendants and have no affiliation towards their native countries. Many discussions are sure to take place (possibly years to come) of how an unlikely candidate such as Trump got into power.
It occurred to me afterwards that the scruples and principles that people adhere to as core values that drives individuals and the interests of people as a whole no longer apply. I think what happened is that a majority of the Americans who usually abide by a core set of principles and values based on decency, principles, honesty, integrity etc actually thought it was sufficient to oust Trump out of this race but boy were they wrong. Many people were asked the question who they would vote into office and some replied that both could not be trusted and if they had to pick one of the lesser evil it would be Trump.
It is clear that the stealth campaign engine of Trump had succeed in achieving their goal and the Clinton campaign possibly fell into complacency based on media polls and hype. In my opinion Obama and the first lady were the handful of folks who read the signals correctly and did their utmost best to avert the situation but it was not to be. When you are up against a businessman who is sharp, calculating and only built to win, you had better be on your toes. I learnt this having been in business for many years. Credit must go to Trump.. he played a masterful game that tilted the American voters onto his side and left the other party bemused and still picking up the pieces.
This article was brought to you by Ferdouse Khaleque PhD